We may earn commission from links on this page, but we only recommend products we back. Why Trust Us?
The 6 Best Thermostats of 2023
Including the best Amazon smart thermostats with Wifi connectivity and Homekit compatibility.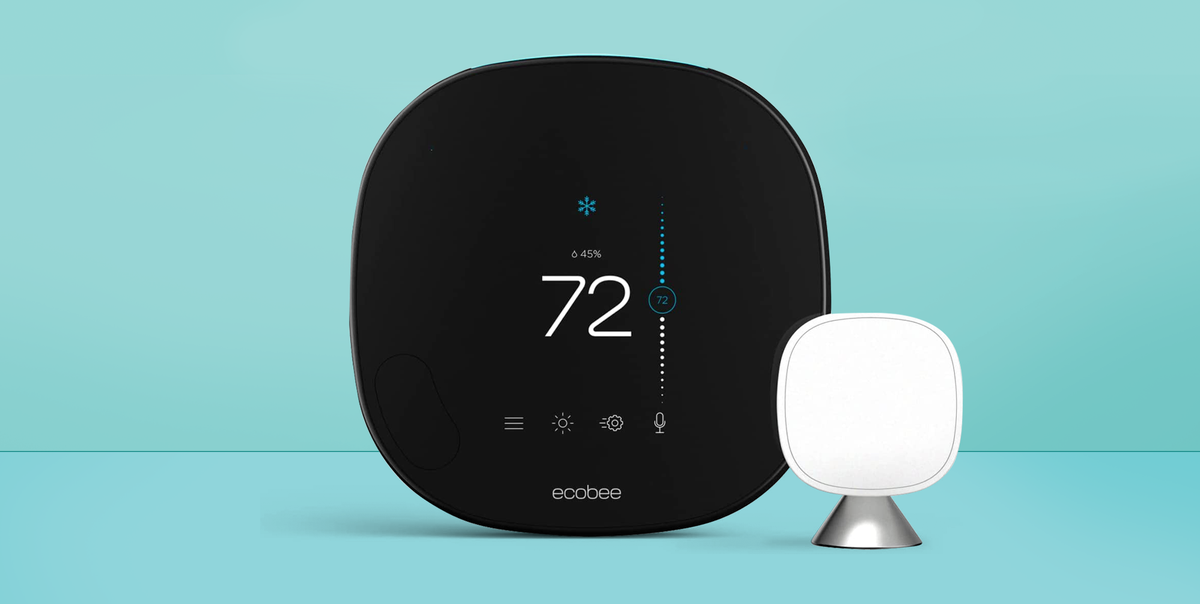 amazon
We updated this article in January 2023 to ensure all products tested and vetted by the Home Improvement Lab at the Good Housekeeping Institute were in stock and correctly priced.
---
If you're still adjusting the thermostat before you go to bed or kicking yourself when you forget to turn the system off before leaving town, have we got news for you: Smart thermostats control your home temperature automatically and allow you to make adjustments remotely, helping to maintain the perfect indoor climate 24/7. Not only does that save you real money ($50 a year on average, according to Energy Star), but it makes your home so much more comfortable throughout the year.
While upgrading to a smart thermostat is a no-brainer, choosing the right device is anything but. At the Good Housekeeping Institute, our experts test hundreds of smart home devices, from locks to light bulbs to robot vacuums. For this article, we tested 20 of the latest smart thermostats to find the best models on the market that are easy to install, easy to use and compatible with other smart home systems. Here are the best thermostats of 2023, covering a range of needs and home types.
Our top picks:

At the end of this article, you'll find more information on how we test smart thermostats and what to consider when purchasing a new thermostat. For more information, check out our expert guide on how to install a smart thermostat, as well as our article on how else you can cut back on energy costs.
Advertisement - Continue Reading Below
Advertisement - Continue Reading Below
How we test thermostats

Ever since the first smart thermostats came out more than a decade ago, the engineers at the Good Housekeeping Institute have watched the category get better and better, thanks to improved sensor technology and smarter home integrations.
The engineers and product experts at the Good Housekeeping Institute have evaluated every brand leader in the smart thermostat category — names like Nest, ecobee and Honeywell — and we've kept close tabs on newcomers, since that's often where the best innovations come from.
For our latest review, we spent more than 40 hours analyzing the current marketplace and collected hundreds of data points during in-lab and at-home tests to identify the best of the best. We got hands on with 20 of the latest models, testing some for at least three months. As part of our rigorous testing, we assessed ease of installation, the intuitiveness of operation on both the device and app and the functionality of advanced features like Alexa-integration or humidity-control capabilities. Our Lab experts also rated the devices on how much power they consume and how many smart home systems they are compatible with.
As with other smart home products — from smart locks to video doorbells to garage door openers — the priciest options aren't always the best fit. And that's good news if you're looking to make this upgrade on a budget or if you plan to install multiple smart thermostats throughout your home.
What to look for when shopping for the best smart thermostat.

Our top picks will help you narrow down the list of potential smart thermostats. Keep these five factors in mind as you zero in on the perfect model for your home:
??Ease of installation: Many newer models come with helpful instructions and have features in their respective apps to help you connect the thermostats to your HVAC system. That said, for many, it's still easier to call an electrician rather than struggle with wiring on your own; professional installation averages $150 to $200.
??Installation compatibility: Most smart thermostats work with common heating and cooling equipment, but some exceptions apply; many manufacturers have compatibility tools on their websites that make it easy to check. If you live in an older home, you may discover that there's no C-wire at your thermostat hook-up — this is the wire that provides continuous power to a digital thermostat. Though many smart thermostats have C-wire adapters, it's often better to have the new wire installed by an electrician, at which point you might as well have them install the thermostat, too.
??Smart speaker compatibility: The majority of smart thermostats can pair with both Android and Apple devices, but check to see what other devices it may be compatible with that you may already own, like an Amazon Alexa or Google Assistant device.
??Features: While many thermostats claim to be "smart," what that entails varies from device to device. Those with machine learning create temperature schedules on their own. Some have extra sensors built-in to help recognize when people are in a room or not. Others include geofencing capabilities that are able to determine your location so it can start warming or cooling your house as your vehicle approaches. Another smart feature is energy history, which lets you track energy consumption to identify additional ways to save.
??Aesthetics: While, feature-wise, many smart thermostats are similar, design-wise you'll find a lot of variation. Consider how this piece of hardware will blend in with the rest of your decor.
Why trust Good Housekeeping?

The Good Housekeeping Institute Home Improvement Lab provides expert reviews and advice on all things home-related, including climate control and smart thermostats. In his role as Director of the Home Improvement & Outdoor Lab, Dan DiClerico brings more than 20 years of experience to the Institute, having reviewed thousands of products for Good Housekeeping, as well as brands like This Old House and Consumer Reports. His coverage of the earliest programmable thermostats from the 2000s helped reveal that some models were so confusing to set up that they ended up costing homeowners in lost energy.
For this report, Dan worked closely with Rachel Rothman, Chief Technologist & Director of Engineering at the Institute. For more than 15 years, Rachel has put her training in mechanical engineering and applied mathematics to work by researching, testing and writing about products in the HVAC space, doing cross-category tests for not just thermostats, but also air purifiers, air conditioners, heaters, humidifiers and more.