20 Top Bathroom Trends Taking Over in 2023, According to Design Experts
Here's what the pros are predicting, from textured tiles and modern lighting to "the new statement bathroom."

By Alyssa Gautieri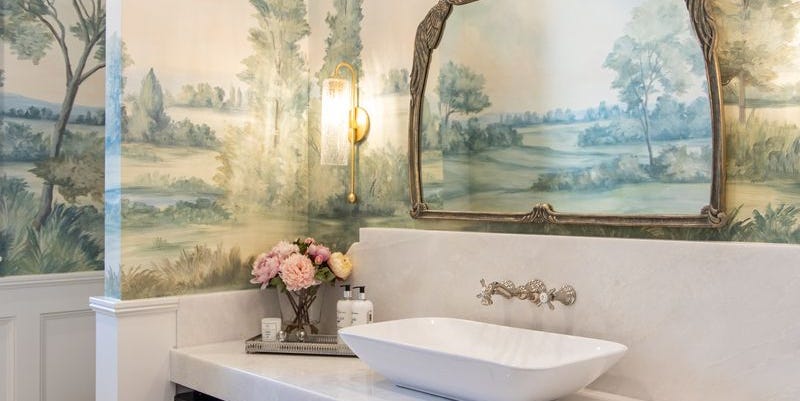 Rebecca Westover
Although it's a room rooted in function, the bathroom is the perfect space to flex your creativity. Bathroom design schemes should be built to last, but that doesn't mean you need to keep dated finishes, fixtures or styles. There are endless ways to refresh your design (without a full remodel), whether with a new bathroom vanity, playful wallpaper design or the addition of modern bathroom decor. To inspire your next bathroom or powder room makeover, we asked our favorite interior designers and architects to share new bathroom trends that they're loving for 2023.
From small bathrooms to luxury retreats, we've rounded up beautiful bathroom designs you'll want to recreate. While some designers are sticking with neutrals like lighter tones and nature-inspired woods, which showed up in our 2022 bathroom trends list, others are all about going bold with intriguing tile designs and colorful cabinetry. Two of our experts believe statement bathrooms are making an entrance this year, which means turning yours into a high-end haven. As always, bathroom lighting is a topic of conversation — hint: one designer thinks decorative fixtures will be huge.
With 2023 only a month away, it's the best time to gather fresh inspiration for your bathroom, regardless of its size. Whether you favor minimal, modern or rustic bathroom designs — or you're looking to try an upcoming design style, you're sure to find a trend that sparks interest this year.
1
Lighter Tones, But Not White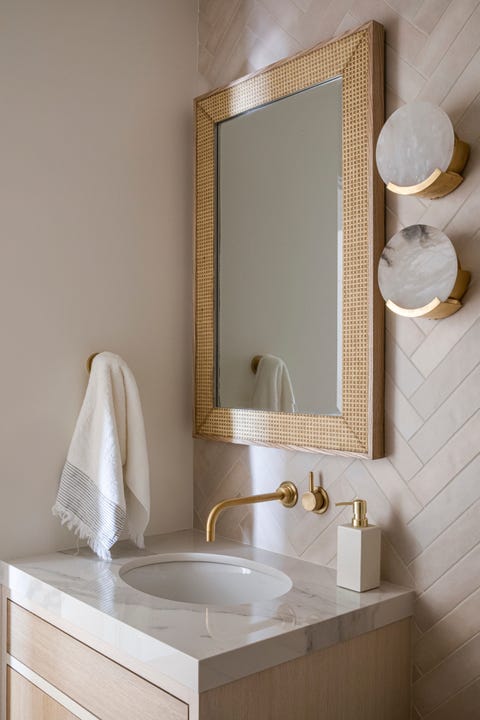 Chad Mellon
"The all-white look is beginning to fade out more and more. People will still take the essence of lighter tones but lean toward taupe, cream, light pinks and warmer woods to balance spaces." — Lindye Galloway, interior designer
2
Decorative Lighting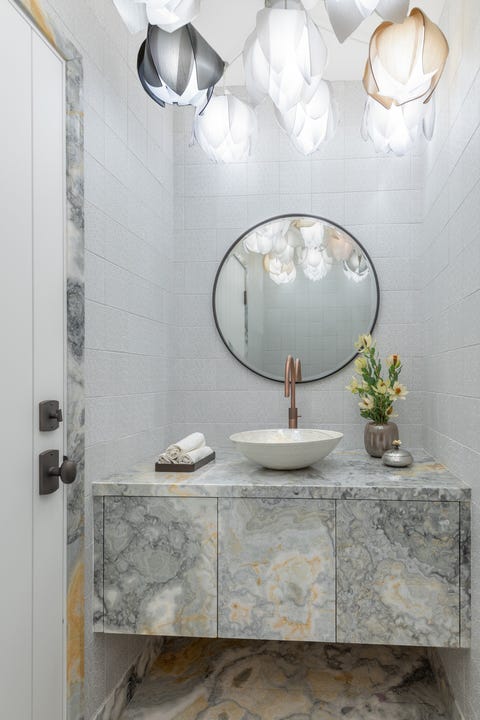 Steven Dewall
"From pendants to sconces and ornate ceiling lights, bathroom spaces have become prime spaces for showcasing decorative lighting. Beautiful bathroom lighting can contribute to a soothing atmosphere and offer a sculptural element while still supporting the room's functionality." — Sarah Barnard, interior designer
3
Mix and Match Tiles
James Stanley
"Think of taking textured tiles and mixing them with a flat surface, whether on the wall, floor or both. Taking geometric patterns and installing them in such a way that the pattern fades out into a solid design. Talk about a chic custom look without the extra cost." — James Stanley, architectural designer
Advertisement - Continue Reading Below
4
Japandi Design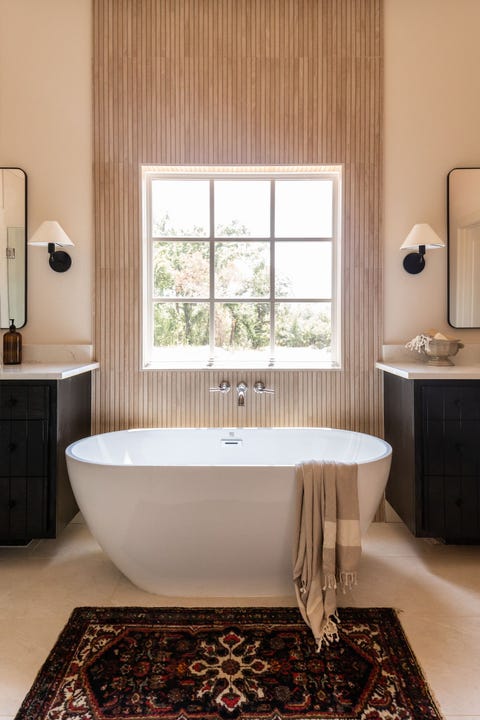 Kacey Gilpin
"Japandi design style is up and coming, and it will carry on into 2023 and beyond. Its Scandinavian design meets Japanese influence — slatted wood, black wood stains and modern shapes. We're using black, chrome or white for our metals, not really bringing in any of the gold." — Kelsey McGregor, founder of Kelsey Leigh Design Co
5
Blending Styles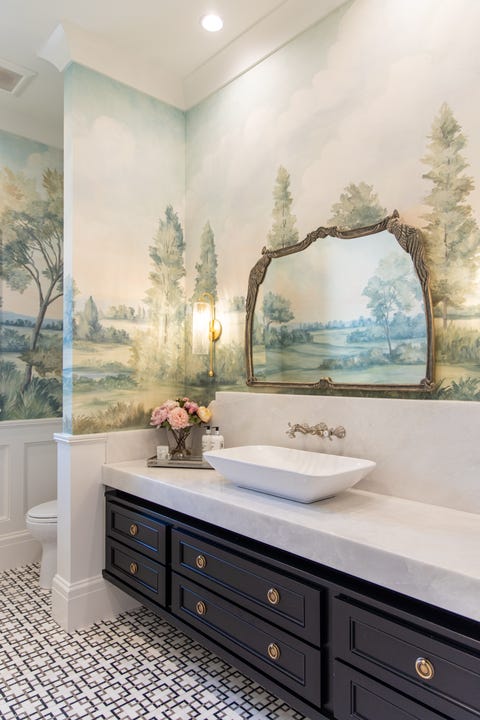 Rebecca Westover
"People are leaning more toward artistic blends of traditional and different eras of the the past, like Art Deco and Art Nouveau integrations. Give the smaller areas, like powder rooms, a little more interest adds to the overall character of the home." — Marissa Pope, interior designer
6
Tile Wall Designs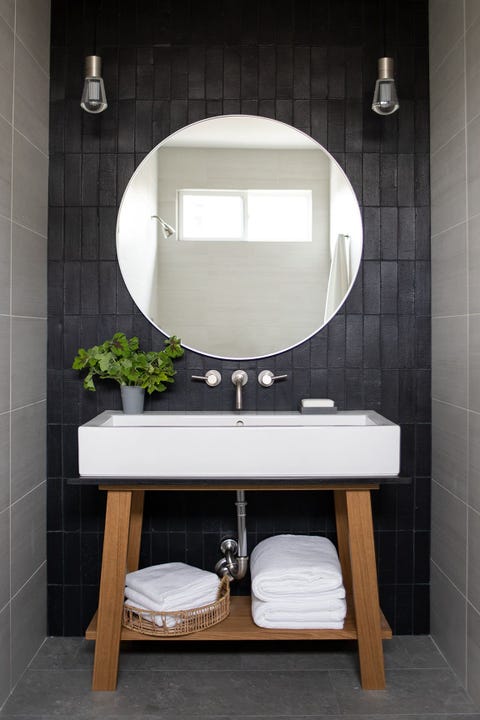 Meghan Beierle-O'Brien
"Tile can be installed on the walls of a bathroom in place of paint or wallpaper. I've used dark tile on the back wall for a sophisticated contrast." — Caren Rideau, founder of The Kitchen Design Group

Advertisement - Continue Reading Below
7
Nature-Inspired Elements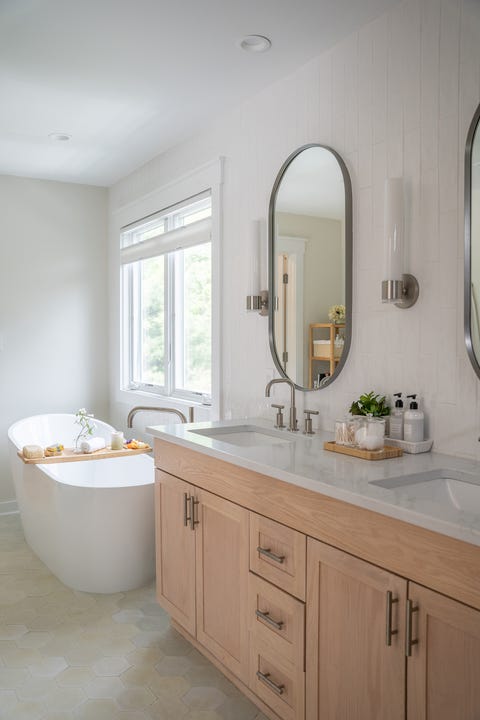 Mark Sohby Photography
"I foresee natural wood tones and serene spaces being a key part of design in 2023. Incorporating exterior elements in the home with materials and organic features such as woods, concrete, plaster, rounded edges and earthy tones." — Jessica Stull, owner of Parker Interiors
8
Dusty Blues and Greens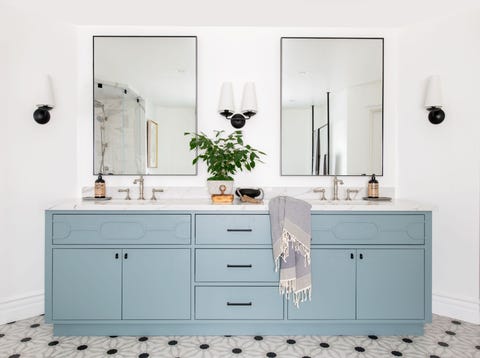 Lauren Pressey
"I love a dusty green or blue bathroom. It really opens up the palette and allows you to work with so many more complementary hues." — Kate Lester, interior designer
9
Spa-Like Bathrooms
Courtsey of Scheer & Co.
"This season, we're really going to see a rise in what I like to call, 'The New Statement Bathroom.' This is a bathroom that makes me feel like I've been whisked away to a spa overlooking water. It means luxurious finishes (like natural stone and unlacquered brass), a large soaking tub, framed views bringing the outside in and cabinetry that looks and feels like you'd see in a high-end cocktail bar." — Killy Scheer, Scheer & Co.
Advertisement - Continue Reading Below
10
The Bath Tub As a Focal Point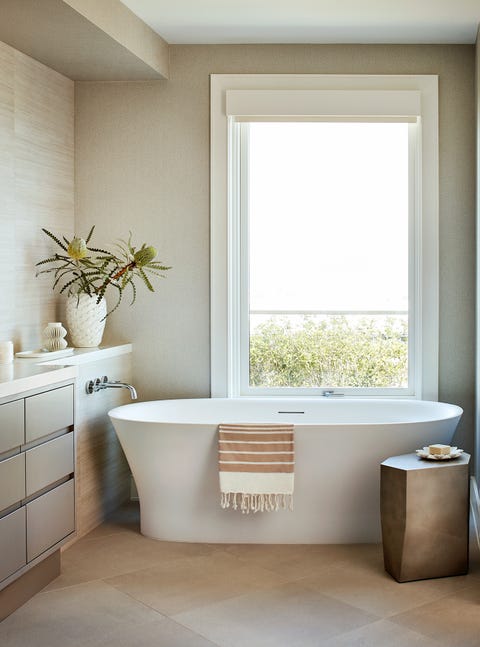 James Carriere
"A spa bathroom is always on trend. Bathrooms should serve as a respite from the outside world, a place to decompress and recharge. "— Sabra Ballon, ballonStudio
11
Irregular Mirrors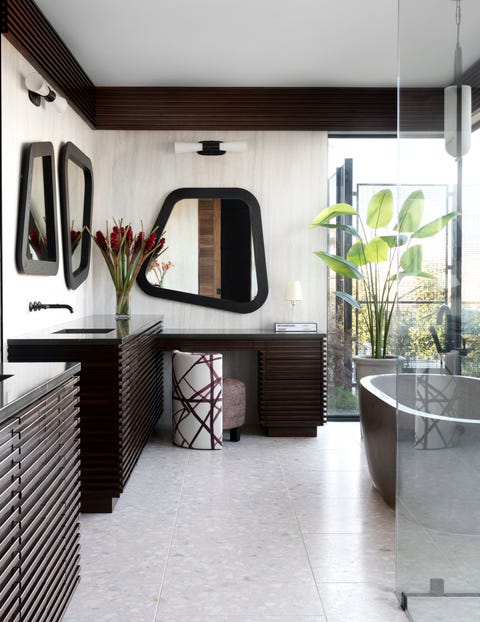 Haylei Smith
"In the next year, we'll see more unique decor incorporated into bathrooms. This can range from artwork and hardware pieces to mirrors. I love that fun mirrors bring a touch of whimsy to a space." — Lance Thomas, Thomas Guy Interiors
12
All White Walls and Cabinetry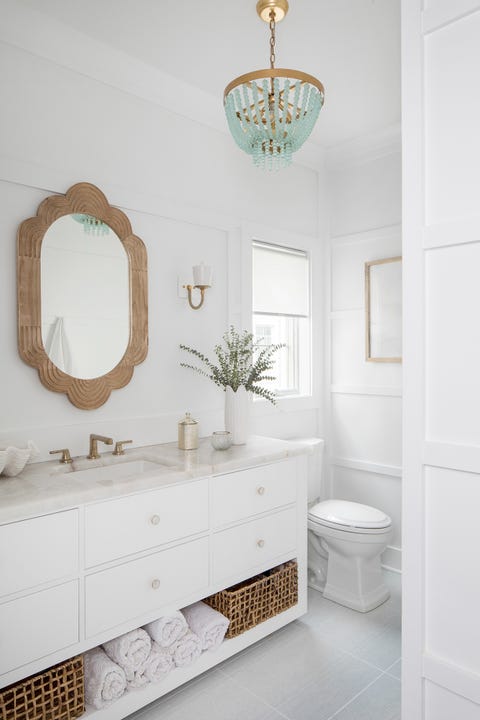 RAQUEL LANGWORTHY
"An all-white bathroom is always calming and in style, but adding natural touches to the space — like wood mirrors and wicker baskets — gives it that much-needed contrast to make it interesting and inviting." — Karen Wolf, K+Co Living
Advertisement - Continue Reading Below
13
Textured Tiles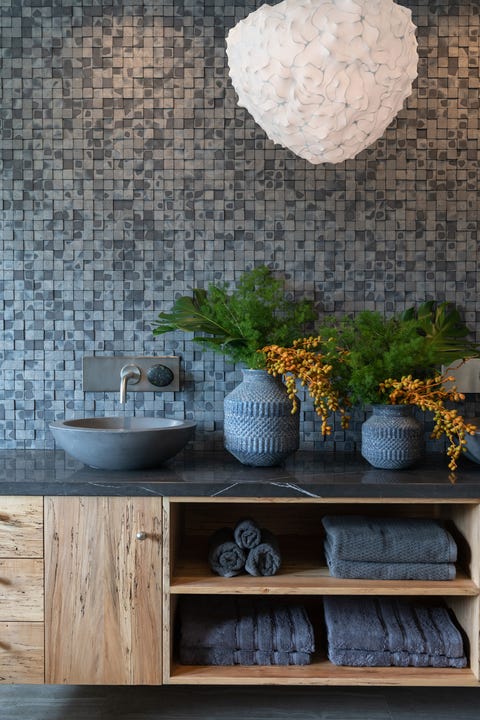 Steven Dewall
"Textured, decorative tile is likely to gain popularity in 2023. The shapes add decorative interest, dimension and artistry to a space, particularly for hand-crafted or highly detailed tiles. Uniquely textured tile may also catch shadows or reflect light, contributing to the room's overall mood as lighting is modified." — Sarah Barnard, interior designer
14
Gold Accents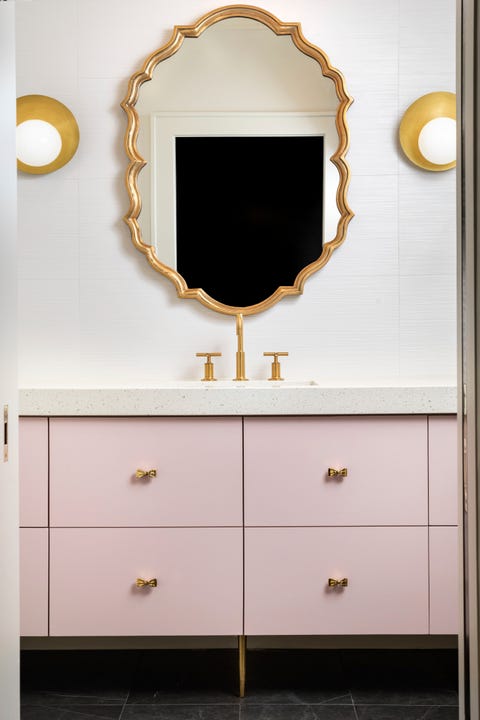 Jenifer McNeil Baker
"Depending on the tone, gold goes with almost any color. However, it especially pairs well with neutrals. I personally love to use gold for light fixtures and cabinet hardware." — Eddie Maestri, principal architect of Maestri Studio
15
Bold (and Custom) Elements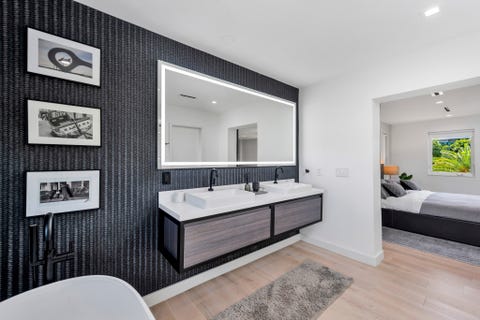 Courtesy of House of One
"It's all about a statement bathroom in 2023. That means a neutral color palette and incorporating various elements like stone, custom millwork, wall coverings and beautiful accessories to make the space pop." — Brittany Farinas, CEO + Creative Director of House of One
Advertisement - Continue Reading Below
16
Stone Showers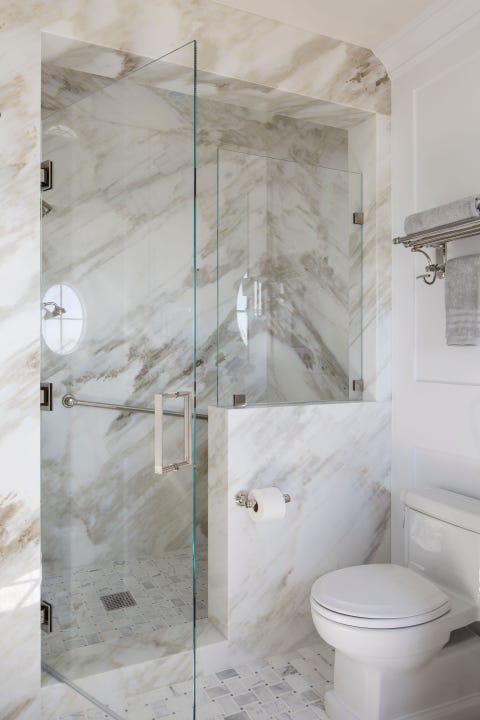 Meghan Beierle-O'Brien
"Showers covered in stone slabs are easy to clean, as dirty grout is not a concern. Stone is a classic material and a statement on its own." — Caren Rideau, founder of The Kitchen Design Group
17
Floating Shelves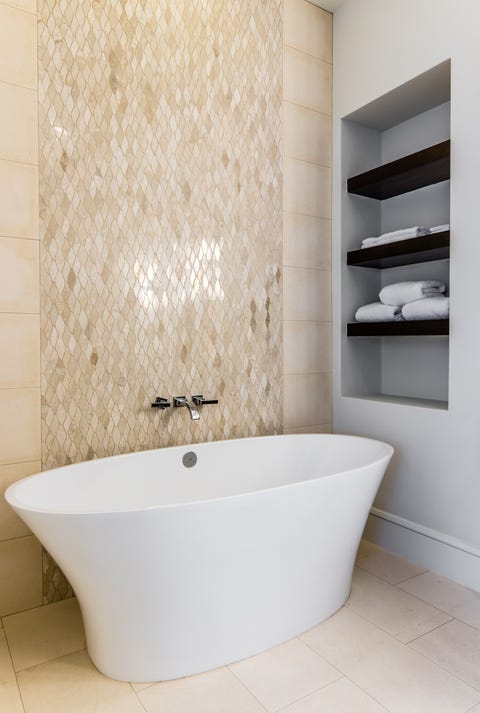 Courtesy of Nickson Living
"Incorporating open-air shelving into your bathroom is a great way to add storage and give your space a hospitality feel. We recommend using organic elements, like natural wood or stone, to tie current trends into your existing space." — Cameron Johnson, CEO & founder of Nickson Living
18
Colorful Cabinetry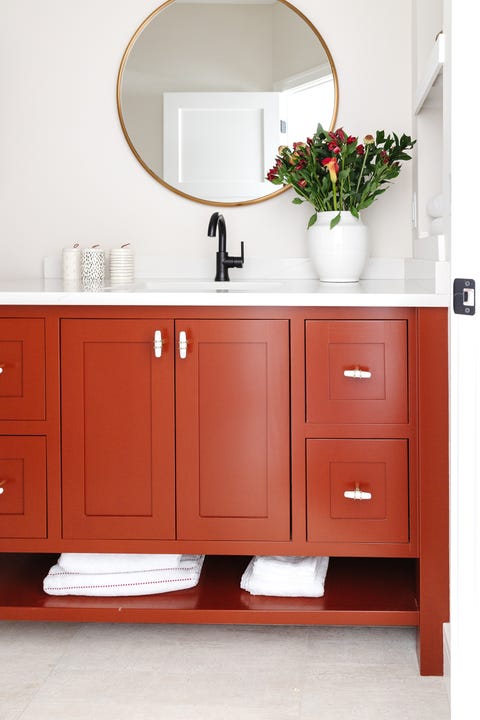 Mackenzie Merrill
"Unexpected colors can do marvels for a bathroom. The use of burnt sienna here adds a much-needed element of warmth while keeping the overall feeling of the bathroom minimal and elevated." — Amy Leferink, Interior Impressions
Advertisement - Continue Reading Below
19
Pedestal Sinks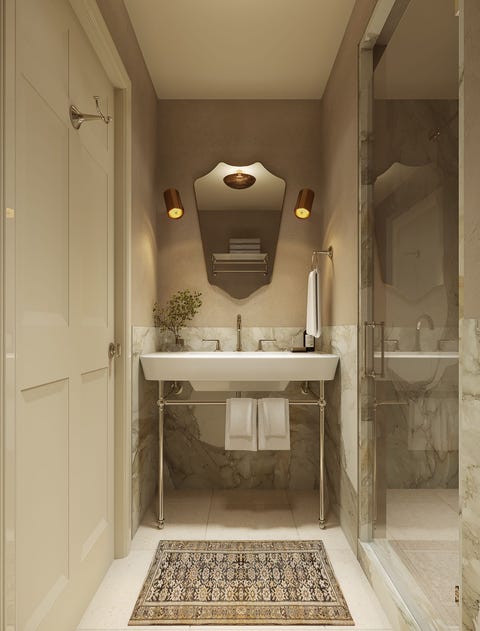 Courtesy of Swike Design
"I'm seeing more pedestal sinks. Freestanding pedestal sinks create a moment of visual interest." — Sarah Weichel, Swike Design
20
Dark Finishes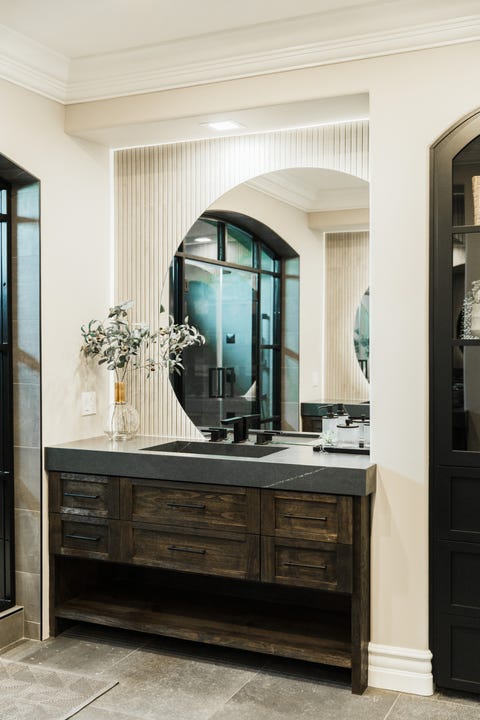 Shannan Leigh Photography
"Darker colors are coming back. You'll notice richer, warmer wood tones paired with dark, more saturated finishes. Lots of textures will be showing up in all ways. " — Rebecca Rollins, interior designer

Associate Lifestyle Editor
Alyssa Gautieri (she/her) is the associate lifestyle editor for Good Housekeeping, where she covers all things home and interior design. Prior to joining GH in 2022, she wrote for publications including ELLE Decor, Chairish, BobVila.com, Unique Homes Magazine and LODGING Magazine, in addition to crafting product copy for home brands like BrylaneHome and VIGO Industries.