75 Most Highly-Anticipated Movies Coming Out in 2023
The theaters will be filled with new Marvel hits, family films, horror flicks and dramas for adults — and we can't wait.

By Marisa LaScala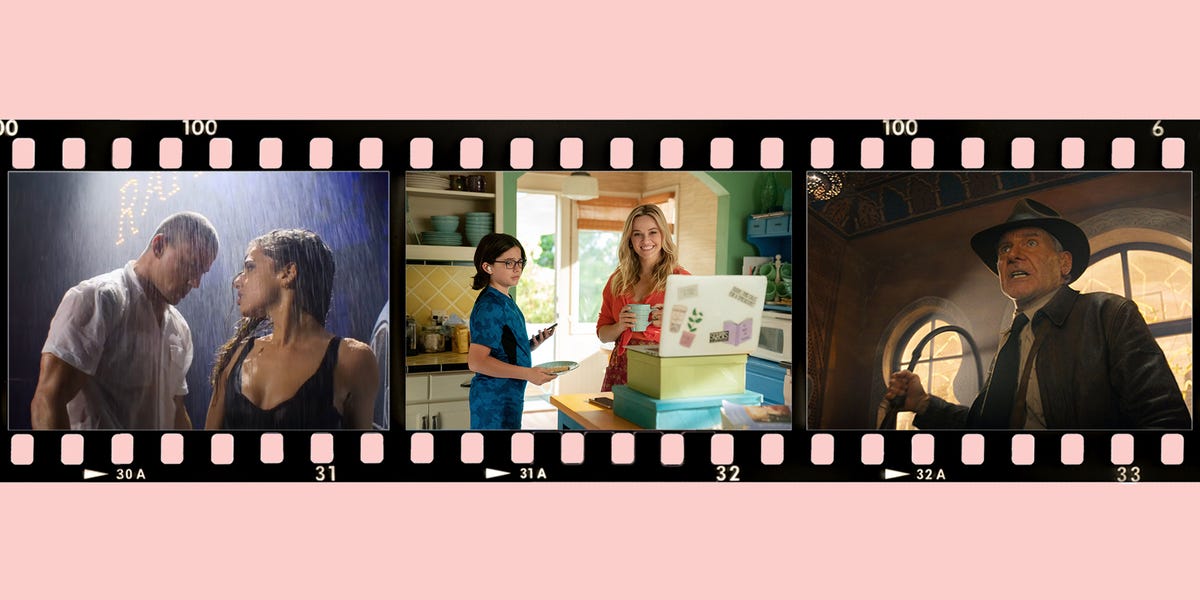 The year 2023 is shaping up to be a good one for movie fans. After pandemic shutdowns and delays, movie studios are firing on all cylinders again, which means a packed schedule of new releases are on the horizon.
But what to watch? The best movies of 2023 are a mix of old and new, with some of our favorite characters returning to screens, and others popping up for the first time. There are plenty of Marvel, DC and other comics-inspired movies for those who need their superhero fix. There are lots of kids' movies in 2023 that you can take the whole family to see and watch together. Horror movies are all over the release schedule, so you don't have to wait until Halloweentime to have a good scare. And action and adventure abound from some of the best in the business, with familiar names like Indiana Jones and Ethan Hunt leading the way. Plus, there's always the sprinkling of rom-coms, adult dramas and other originals dotting the release calendar throughout the year.
Check out our most anticipated movies of 2023 (listed in order of release date), mark your calendar for your favorites (but be advised that studios love to shift these around), grab your popcorn and get ready to have a good time. And, if you're still looking for more, you can always catch up with the movies of 2022.
The Pale Blue Eye
Release Date: January 6, 2023
Christian Bale stars in this Netflix film, about a detective who is called in to solve a case at the prestigious West Point Academy. When he's stonewalled by the cadets, he recruits one to help: a man named Edgar Allen Poe.
WATCH ON NETFLIX
M3GAN
Release Date: January 6, 2023
That's Model 3 Generative Android, or M3GAN for short. M3GAN is a prototype meant to be a lifelike dolls kids can use to be their greatest companion. But when a roboticist gives M3GAN to her grieving niece, M3GAN becomes overprotective and vows to kill anyone who poses a threat. Will M3GAN join the pantheon of killer dolls, like Chucky and Annabelle? She's certainly got moves.
WATCH ON PRIME VIDEO WATCH ON PEACOCK
House Party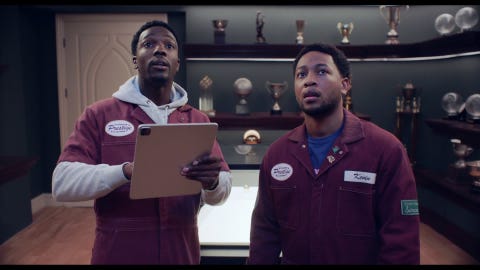 Warner Bros.
Release Date: January 13, 2023
Though he won't be starring in it, LeBron James is producing a remake of House Party, based on the 1990 comedy. It stars Jacob Latimore of The Chi and Tosin Cole of Doctor Who as a pair of house cleaners who decide to throw a bash at LeBron's house while he's away.
WATCH ON PRIME VIDEO WATCH ON HBO MAX
Advertisement - Continue Reading Below
Plane
Release Date: January 13, 2023
If you're into those macho, Gerard Butler action flicks, Plane should do the trick. In it, Butler stars as a commercial pilot who narrowly averts a crash and makes an emergency landing with a plane full of passengers — only to find out they've landed in a warn-torn island. When the passengers are taken hostage by rebels, he teams up with one of the few remaining non-hostages (Mike Colter), who is trained in combat, to free them. The catch? That passenger was an accused murderer being transported by the FBI.
WATCH ON PRIME VIDEO WATCH ON ITUNES
Missing
Release Date: January 20, 2023
This is from the makers of what's being called "screen life" movies, where most of what you see is the main characters' screens and devices. In Missing, Storm Reid stars as a girl whose mom disappears while on vacation with her boyfriend in Colombia, so she uses all the technology at her disposal to figure out what happened.
WATCH ON PRIME VIDEO WATCH ON APPLE TV
Close
Release Date: January 27, 2023
This Belgian movie won the prestigious Grand Jury Prize at the Cannes Film Festival last year, and was nominated for a Best International Feature Film Oscar this year. It's an emotional tale of two 13-year-old best friends who start to be pulled apart when others notice how close they are.
WATCH ON PRIME VIDEO WATCH ON ITUNES
Advertisement - Continue Reading Below
Infinity Pool
Release Date: January 27, 2023
A couple, played by Alexander Skarsg?rd and Cleopatra Coleman, heads off for a romantic getaway at a world-class resort. Their idyllic vacation changes, though, when they meat another couple that draws them outside the confines of the resort and into a culture of hedonism and violence. How far will they take it?
WATCH ON PRIME VIDEO WATCH ON ITUNES
You People
Release Date: January 27, 2023
When Ezra (Jonah Hill) and Amira (Lauren London) decide they want to get married in this Kenya Barris Netflix movie, it's hard for them to get their families on board. They have to navigate generational divides and cultural differences to get everyone on the same page. And, with a cast that includes Eddie Murphy, Nia Long, Julia Louis-Dreyfus and David Duchovny, you know it's not going to go smoothly — but it will be funny.
WATCH ON NETFLIX
Shotgun Wedding
Release Date: January 27, 2023
In this Amazon Prime Video movie, Darcy and Tom's destination wedding is idyllic — until the whole wedding party gets taken hostage by rebels. Instead of walking down the aisle, the bride and groom have to escape and go on a rescue mission to get help.
WATCH ON PRIME VIDEO
Advertisement - Continue Reading Below
80 for Brady
Release Date: February 3, 2023
Despite the title, this inspirational sports comedy focuses on the fans, not the players. Loosely inspired by a true story, the film stars Lily Tomlin, Sally Field, Rita Moreno and Jane Fonda in a story about four best friends who go on a road trip to see their favorite player — Tom Brady, naturally — play in the Big Game. Hilarious adventures ensure.
WATCH ON PRIME VIDEO WATCH ON ITUNES
Knock at the Cabin
Release Date: February 3, 2023
M. Night Shyamalan is back on the big screen with another tale full of Hitchcockian suspense. The film follows a little girl who is vacationing at a cabin with her dads. The three of them are taken hostage by a group — played by Dave Bautista, Nikki Amuka-Bird, and Rupert Grint — who believe that they've received messages about an upcoming apocalypse, and the only way to avoid it is with the ultimate sacrifice.
WATCH ON PRIME VIDEO WATCH ON ITUNES
Magic Mike's Last Dance
Release Date: February 10, 2023
Channing Tatum and Steven Soderbergh return for a new Magic Mike installment, but this time the action skips to across the pond. Salma Hayek Pinault plays a woman who convinces Mike to put on a big show in a London theater, with steamy results.
WATCH ON PRIME VIDEO WATCH ON ITUNES
Advertisement - Continue Reading Below
Your Place or Mine
Release Date: February 10, 2023
In this Netflix rom-com, Reese Witherspoon and Ashton Kutcher star as best friends who live across the country from each other, she in LA and he in NY. When they decide to do a house swap for a week, it shakes things up in ways they didn't expect.
WATCH ON NETFLIX
Somebody I Used to Know
Release Date: February 10, 2023
Workaholic TV producer Ally returns to her hometown and reconnects with an old flame — only to find out he's getting married. Worse, his fiancée reminds Ally of a person she used to be. This is a project from husband-and-wife duo Dave Franco and Allison brie; they wrote it together, and Franco directs.
WATCH ON PRIME VIDEO
Ant-Man and the Wasp: Quantumania
Release Date: February 17, 2023
The next chapter in the Marvel Cinematic Universe trades giant worlds for tiny ones. The entire Lang family gets taken to the Quantum Realm and discovers a whole universe there — but they also have to contend with Kang the Conqueror, whom Loki fans know is not someone to be trifled with.
Advertisement - Continue Reading Below
Cocaine Bear
Release Date: February 24, 2023
In a film whose title really says it all, this based-on-a-true-ish-story movie is about — what else? — a bear that finds and eats smuggled cocaine, then goes on a drug-fueled rampage. The tourists, smugglers, cops and anyone else has to find means to get out of the bear's way, or else.
WATCH ON PRIME VIDEO WATCH ON ITUNES
We Have a Ghost
Release Date: February 24, 2023
This PG-13 thriller comes from Christopher Lander, creator of Happy Death Day and Freaky. In it, a family learns their new house is haunted, only to have the specter turn them into social-media sensations. As they try to solve the mysetery of their ghost's past, the attention lands them on the radar of the CIA.
WATCH ON NETFLIX
Creed III
Release Date: March 3, 2023
Creed star Michael B. Jordan takes over the directing reins for the third film in the franchise. (Don't worry, Ryan Coogler, the previous director, worked on the story.) This time, Adonis Creed heads to the ring to fight someone who knows him from his past (played by Jonathan Majors).
Advertisement - Continue Reading Below
Operation Fortune: Ruse de Guerre
Release Date: March 3, 2023
Jason Statham re-teams with Snatch director Guy Ritchie for another action flick. This time, Statham plays Orson Fortune, a spy who has to partner with a movie star to infiltrate the world of the rich and famous.
WATCH ON PRIME VIDEO WATCH ON ITUNES
Scream VI
Release Date: March 10, 2023
Scream is synonymous with Woodsboro, but this time Ghostface is headed to New York City. Dermot Mulroney joins the cast, which includes returning faves Courteney Cox, Jenna Ortega, Melissa Barrera, Jasmin Savoy Brown and Hayden Panettiere.

Senior Parenting & Relationships Editor
Marisa (she/her) has covered all things parenting, from the postpartum period through the empty nest, for Good Housekeeping since 2018; she previously wrote about parents and families at Parents and Working Mother. She lives with her husband and daughter in Brooklyn, where she can be found dominating the audio round at her local bar trivia night or tweeting about movies.